Click picture for a larger view.

From
Spectral Motion Inc.


Limited Edition of 500

Solid Resin Model Kit

1/6 Scale

20" from Base to Wingtips!

18" Wingspan!

Signed And Numbered Base

Certificate Of Authenticity

Illustrated Instructions

Sculpture
By Mike Elizalde

Painted Buildup
By Tom Gilliland

Box Art
By Carlos Huante

Anatomical Direction
By Mary Elizalde

Pre-Painted Buildups By Tom Gilliland Available (contact us for details)

plus $10.00 shipping and handling in the USA
Fill out our order form and make check or money order for $149.00 payable to Spectral Motion Inc. and send to:
For Visa or Mastercard orders:
Tel (818) 794-2827
-or-
Fax (818) 794-1257
For questions or comments:
Email animatron@msn.com
© 1996 Spectral Motion Incorporated.
® Alex The Vampire is a registered trademark of Spectral Motion Incorporated.
All rights reserved.
---
Kit Instructions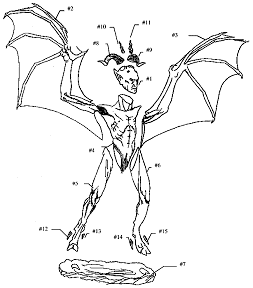 Parts List
1. Head
2. Right Wing
3. Left Wing
4. Body
5. Right Leg
6. Left Leg
7. Base
8. Right Horn (large)
9. Left Horn (large)
10. Right Horn (small)
11. Left Horn (small)
12. Right Leg Spur (large)
13. Right Leg Spur (small)
14. Left Leg Spur (small)
15. Left Leg Spur (large)


Remove & Sand Excess Material From All Parts
Resin kits are shipped with excess material as a result of the casting process. This material must be carefully cut away with a hobby knife or saw and sanded with a rotary sanding tool such as a "Dremel" Moto tool. This step should be accomplished while using a dust mask in a well ventilated area.

Wash, Rinse & Dry All Parts
Using dish washing detergent or other mild soap, thoroughly wash all parts to remove separating agent. Rinse and allow to air dry. A blow dryer may be used to speed the process. This step will ensure good paint adhesion.

Assemble
Carefully pre-fit all parts, sanding as necessary, to provide a good fit. Refer to illustration for placement. Glue the parts together with a cyanoacrylate adhesive such as "Crazy Glue" or other C.A. adhesive (available at hobby stores). Pinning together with 1/8" brass rod before gluing is recommended but entirely optional. Once your model is assembled you can fill the gaps with epoxy putty (also available at hobby stores). Sand putty and prep for painting

Paint
Now you can paint your kit to your liking. The final look of your kit is entirely up to you so use your imagination! Detailed instructions on painting can be obtained from many sources such as model kit magazines or courses on video tape. Ask your model kit dealer for information if you need to know more.
---
---
The Gremlins in the Garage webzine is a production of Firefly Design. If you have any questions or comments please get in touch.

Copyright © 1994-1997 Firefly Design.