Monster Modelfest 97 Review

Review and Photos by:
Scott Buonanno (csbdmd@ix.netcom.com)
Layout by:
Laura Ochiltree (gremlins@gremlins.com)


eptember 13 and 14 marked the return of he annual Modelfest in Boston Mass. Paul Antonelli and the crew from new England Resin and Vinyl / The Character Shop sponsored the annual show. This show was marked by a new and larger venue, and the 10 year reunion of cast of HellRaiser. There were plenty of kits to be had, including some very desirable and rare pieces.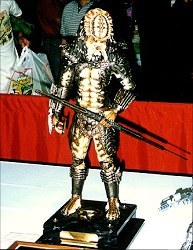 New Stuff
There were several new kits available for the first time and several prototypes on display also. George Stephenson from Geometric was on hand premiering their new Predator kit. If you liked their Alien you should like this as well. Sculpted by the same gent that did the Alien, the kit features a modular design that should minimalize the need to do a lot of seam work, and should allow prepainting of a lot of components before assembly. It features both a helmeted and bare head so you can have your choice.George was selling both the regular and clear versions of the kit. According to George, it is so difficult to get what he considers satisfactory pours in clear, that the intended limited edition run may be even shorter than originally intended. Should become highly collectible. The resin base for the kit features a sort of jungle base with a tree stump and an optional skull that can be held by the predator.

Alternative Images had their new Paramour kit on hand. A limited run kit featuring the Creature from the Black Lagoon carrying his female victim, this was a real beauty. A really nice sculpt and excellent castings make this one to look for.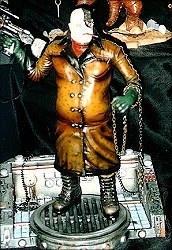 Morningstar Creations/ Central Casting were showing their new Rancor kit. Looks like a real winner for the Star Wars fans. They also had a new (to me anyway) Captain Kirk on Hand. Featuring Kirk in "The Trouble with Tribbles", it features a 1/6 scale Shatner holding a few tribbles (real puffy ones provided) with a wry smirk on his face. I was also treated to a few previews of whats to come from this up and coming company. They had a 1/6 scale Cheech Marin holding a microphone in From Dusk til Dawn. A strong likeness makes this an interesting piece from fans on the movie. I was also treated to a top secret preview. I was asked to be cryptic so as not to attract unwanted attention for the company. I was shown a 4x6" photo of a critter heretofore unseen in resin. A resident of an icy cave in a very popular sci-fi trilogy, the figure was said to stand in the 14" range and the ice cavern base was said to be nearly 18" tall. If it were solid cast, the piece would weigh nearly seven pounds! This one should be ready in time for Chiller.
I spent a fair amount of time and money at the Mike Burnett Productions booth! Burnett was debuting a wonderful new line of 1:2 scale busts, Bruce the shark reproductions, a cool female gray alien, and a snazzy 1:5 scale Apollo astronaut. Any of these pieces were a bargain, featuring excellent sculpting and a ton of solid resin. The biggest problem I had with the booth was choosing which kits to pick up!
Mike Cusanelli was there, debuting his new company, Foxfire. To those unfamiliar, a lot of Mikes kits have been released by Soldat. Mike does some of the nicest girl kits around. He has a distinctive style and you get good quality for your money. His new stuff is no exception. His newest kit features a beautiful alien girl with a strange little criter huddled at her feet. The sculpt was, as usual beautiful, and the castings were wonderful. Keep an eye out for this company.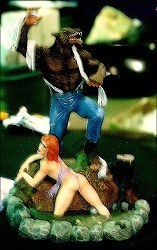 Jim Deming (Kitboy33 to grems) and his Fantasy Creations were previewing a soon to be released kit. Titled Blind Date, this was an approximately 1/7 scale werewolf and semi clothed damsel in distress. I was very impressed with the sculpt on this one. It figures to be around 14 pieces and may retail around $175. I did get a pic of this one, but its unfortunately a little blurry so I'm hoping Jim will oblige us with one soon.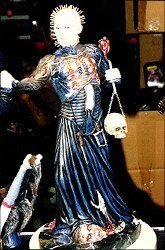 Screamin was taking preorders on thir new Pinhead kit. I thought this was a nicely done piece. Around 1/6 scale it features a sickle wielding Pinhead standing on the head of his victim. Very tasty! Screamin also had a preview of a new werewolf kit to be released soon. This again was around 1/6 scale featuring a nasty lycanthrope standing in what appears to be an abandoned building. I heard this was sculpted by Paul Komoda, but no confirmation on this. I'm not sure what the material will be. They also have a female recumbant in a bubble bath. Kind of nice if you're a girl kit collector. The rep told me this was vacuum formed?! Again, I didn't see the unbuilt kit, so I can't confirm this.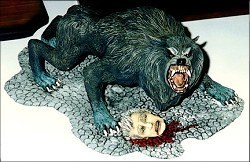 Lastly, Mike Hill was on hand from England. He had two surprises with him, although they were only available in very limited numbers. There was a really nice Lon Chaney tribute featuring Chaney and his alter ego; the lunging Wolfman together. A beautiful likeness of both characters. The second was a Karloff piece with Karloff and his alter ego; the Frankenstein Monster. Again, beautiful likenesses. These would be must haves if you're a fan of the classics but my impression is that they are very limited. Hope I'm wrong on this account.
Personalities
The Afm crew was there seeling issue 9. Dave Fisher gave a modeling class both days. I was only there for the Saturday class, but I found Dave to be affable and approachable. He had slides aplenty and answered all comers. His partner, terry Webb was there too. Terry was pleasant and approachable in direct contrast to how he is often represented by others. Terry was holding a fire sale of sorts featuring rare pieces from his personal collection. There was a Scoop Vampirella and Marilyn Monroe and a clear Predator (Gort? perhaps) as well as many other treasures. I cried real tears when I realized my budget was shot and I couldn't snatch the Real Alien on Pedestal. Oh the pain!

Gordy Dutt and the Kitbuilders crew were there. Gordy was selling the new Kitbulder Cutey kit; a Mike James sculpt. A real bargain at $59. Fred and Sylva DeRuvo were present for Modelers resource. Their Sitting Pretty was on sale too. Again a must get for girl kit fans. I was surprised by the revelation that the kit was sculpted from a photo of Sylvia. Fred, you're a lucky man.

Mike James was on hand from England. In addition to the two tribute pieces, Mike had sculpted a commemorative base relief plaque feturing the Cenobites from HellRaiser for the occasion. Mike gave a class in sculpting that I was unfortunately unable to attend. My only disappointment was that Mike didn't have more of his own kits to sell.

Wlliam Paquet was on hand too. William is one of the best sculptors in the business. He was there selling some of his prefinshed, comic inspired kits. I usually don't like prefinished pieces, but I would buy these. William also related an interesting anecdote about his TurboBaby kit. It originally was to be a prefinshed piece for a greeting card company. When the company decided to change the scale of the piece, William turned it into the freakish little mutant that it now is.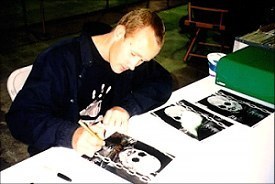 Last but not least were the guests of honor, the HellRaiser cenobites. Led by Doug Pinhead Bradley, these three chaps were appoachable and friendly and signed anything put in front of them (including a couple of body parts... still attached of course). I was surprised to see that Simon Butterball Bamford was a sort of smallish fellow. Maybe 160lbs soaking wet. I kind of expected an obese fellow. Ah the wonders of foam appliances. Nicholas Chaterer Vince and I had an interesting chat. When I told him I was a dentist, he revealed that Clive Barker had essentially chosen him to play the part after he revealed a story about his own lengthy dental reconstruction. That Clive must be quite a character. The fellows also did a question and answer section replete with witty anecdotes about the HellRaiser movies.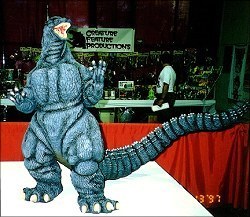 Model Contest
This was the bets model contest I had seen at the Modelfest. Fisher and the judges had a tough time on their hands. There were some wonderful diorams o hand. There was a nice set up of Pythons Spooks run Wild Bowery Boys piece featuring the boys and what looked to be a Billiken Dracula. There was a 4'tall Godzilla (Kaiyodo?) that simply demanded attention from anywhere in the room. Close by was a masterfully painted three foot tall FX Predator. A 1:1 scale CineArts Frankenstein bust was immediately noticeable also. As for Anime, the standout piece was a 1/4 scale Super Sailor Moon brought by Jim O'Neil of West Hartford CT. This piece was some 26" across and was defintely unique. Nobody in attendance could offer anything about its origins. Even Fisher said he'd never seen one like it before. Unique and well built and painted, it took first lace in the Anime category.
Summary
Per usual, I had a great time here. As usual, my pockets were far shallower than my wish list. Too bad too as there were some really unique kits available. I thought that this show was somewhat smaller than last years, but that might just be because of the size of the venue. The room could really have held twice as much, but then I'd stil be there. There was a noticeable absence of recasts which was OK by me. The only annoyance was one retailer who early in the show was unaware of the Geo Predator. After I told him George had them, he bought a couple (including a couple of clear ones) and sold them with a bit of a markup over retail. Kind of tacky, eh? Anyway, Chiller is now only a month away so I have to start skimping and saving again. with three top flight model shows in the Northeast per year, I might just go broke.
Photo Index

The Gremlins in the Garage webzine is a production of Firefly Design. If you have any questions or comments please get in touch.
Copyright © 1994-1997 Firefly Design.