eed something to wipe paint off your hands when working on your models? Look no more! The Gremlins in the Garage T-Shirt is back!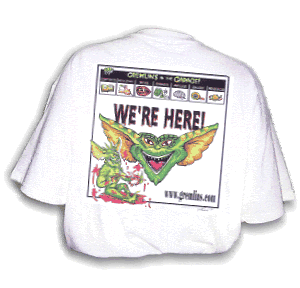 The shirt is a 100% preshrunk white cotton Onieta T-Shirt with the 14.5" by 15" eight color silk screened Gremlins in the Garage design on the front. The price of each shirt is $12.00. (The shipping cost, to anywhere on the earth, is already included in the $12 price.)
Many thanks to Paul Francis who created this new shirt design for all of us gremlins! Not only did Paul create the great new original artwork, but he also did everything else short of wearing our shirts for us!
The Gremlins in the Garage T-Shirts will only be available for a limited time, so if you want to order one to wear at any of the upcoming kit shows you better hurry! Send in your preorder now and get your shirt in time for those kit shows!
If you would like to order then please fill out the following form and hit the order button near the bottom. Then I'll get in touch with you through e-mail to confirm your order and you can snail mail a check for the total.
Thanks!

Order Form

Thanks!

The Gremlins in the Garage webzine is a production of Firefly Design. If you have any questions or comments please get in touch.
Copyright © 1994-2004 Firefly Design.