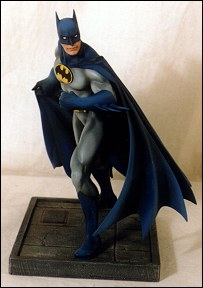 Kiya San's sculpting is not just smokin' it's BLAZING like the fires of hell! He has captured the spirit of the newest D.C. comics rendering of Batman and crew to a veritable miracle. No matter what version one likes best over all the years, this kit is sculpturally the best on the market. This coming from a fan of ole' pointy ears since the word go!
First of all, since Bane broke Batman's back, D.C. comics has presented B.M. in a slightly newer looking costume while not forsaking the original state of affairs. Mainly, Batman no longer wears his briefs on the outside. The resulting effect is that the entire outfit is slicker and gives comic and sculpting artists a more artistic stab at rendering smoother lines to anatomy, and Taishiro is, without question, one of the very best sculptors of anatomy.
The singular point that sets this kit in a class unto itself is not actually the flawless anatomy, but rather the cape. This cape is a pure orchestration of material movement and flow! I've seen great draping sculpted into vinyl and resin pieces, but what gives this piece the stellar edge is that the cape was cut into five pieces for the casting process thus assuring as much detail on the inside of the fabric as on the outside.
There's the problem in this kit; to make a beautiful work of art you must allow yourself added time. While there's no case here of a mystic voice from above booming at you that you need special modeling skills, there is still hard work involved.
Forget air holes in resin. Horizon has eliminated those nasty little things from their kits!
Concentrate on seam lines! Being that you must glue pieces to the cape and left leg into the groin area where you especially don't want seams to show, the majority of your work will be on these spots.
Once I constructed the head/cape assembly and body assembly (left apart for easier painting,) I sanded all puttied in areas at the same time I did the mold lines. Leaving them all for the same step seemed like a good idea.
An interesting sideline here for all new modelers. I always rough in my sanding work with coarse sandpaper. I then use 380 grit wet/dry sandpaper (wet) to refine the pre-painting work. On a puttied in seam line, NEVER trust your eyes! Instead, run a toothpick tip or finger nail across the seam line, if you detect a slight "click" feeling as you cross the seam, then your area needs more work. Even if you run your fingertips over the seam line it may register as clean as your eyes detect it to be. For the highly polished look (and the paints will eventually detect the spots missed) try this technique.
Back to Batman. As stated, leaving the head/cape assembly off for painting affords a monumentally superior paint job, do not overlook the fit before you start to paint. Chances are you'll have to Dremel, file or hot water warp the right hand area to fit the cape. All the extra care taken at this stage pays off later. I spent about a half hour extra to assure a good fit of head and cape assembly over body assembly and didn't have a single spot to re-address with putty or paint!
I'm still not convinced that a 1/8 scale kit need cost $90.00 when produced in the U.S.. This especially as vinyl kit molds are a galaxy above resins rubber molds. Then again, perhaps all the extra expense is put into sculptor's fees. I only know that forewarned of the size of this piece, the price should seem a matter of relativity considering the quality!
Horizon's best to date!!!